Top Ten Sexiest Film Characters
Russell is top movie turn-on
by Pravin Char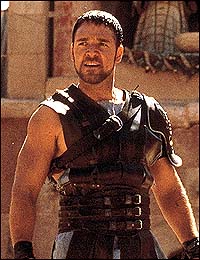 BROODING Roman general Maximus in hit movie Gladiator has been voted the sexiest film character of all time in a poll published yesterday.
Played by New Zealand-born actor Russell Crowe, he topped the survey for film magazine Empire.
One reader commented: 'Maximus is everything a woman could want - strong, noble, intelligent, brave, loyal, devoted to his family and just about sexy enough to light any woman's fire.'
Top female character was Princess Leia in Return Of The Jedi, in which actress Carrie Fisher wears a skimpy gold bikini top. She finished just ahead of Michelle Pfeiffer's Catwoman in Batman Returns, which sees her cavorting in a rubber catsuit.
The Star Wars saga has another entry at number seven for Qui-Gon Jinn, the bearded Liam Neeson.
Older films were represented in the top ten by Holly Golightly (Audrey Hepburn) from Breakfast At Tiffany's and Sugar Kane (Marilyn Monroe) in Some Like It Hot.
Maximus (Russell Crowe) from Gladiator

Princess Leia (Carrie Fisher) in Return Of The Jedi

Catwoman (Michelle Pfeiffer) in Batman Returns

Indiana Jones (Harrison Ford)

Sugar Kane (Mrilyn Monroe) in Some Like It Hot

Barbarella (Jane Fonda) in Barbarella

Qui-Gon Jinn (Liam Neeson) in Star Wars: Episode 1 - The Phantom Menace

Holly Golighty (Audrey Hepburn) in Brakfast At Tiffany's

Trinity (Carrie-Anne Moss) in The Matrix

Catherine Banning (Rene Russo) in The Thomas Crown Affair
~Article transcribed from "NEWS North West" Monday, October 2nd, 2000~